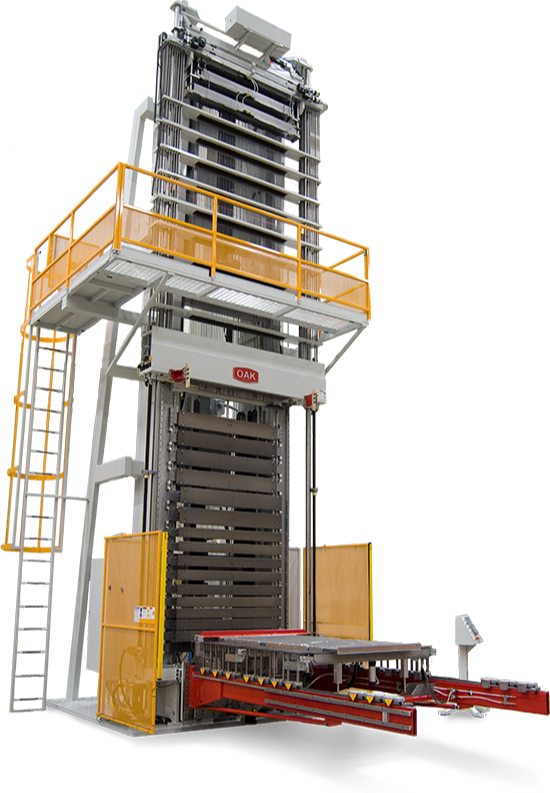 Vertical Mechanical Expander
Consistent and Accurate High-Speed Production.
The OAK line of tube expanders feature machines dedicated to dependably expand heat exchange coils with little damage. Accuracy and precision during tube entry and exit ensure that tubes are expanded uniformly, and fins remain unharmed. Higher production rates are made possible by the short cycle time. The coil lift and eject systems assist in operator safety and ergonomics.
The vertical mechanical expander is designed specifically for the production of high-quality heat exchanger coils. The short cycle time allows for both mass production environments and flexible, short-run situations.
Machine Specifications
PRODUCTION
36" (914 mm) Coil Length: 15 seconds
120" (3 m) Coil Length: 35 seconds
FOOTPRINT
8' (2.43 m) to 10' (3 m) wide,
8' (2.43 m) to 22' (6.7 m) deep,
Up to 38' (11.5 m) tall
WEIGHT
Up to 40 tons (40,000 kg)
AIR SUPPLY
8 ft3/min at 80–100 psi (0.23 m3/min at 5.6 bar)
POWER SUPPLY
For 60 HP Expander:
55 kW @ .80/.82 PF, 24 VDC Controls

Foundation information supplied upon request
Coil Specifications
TUBING DIAMETER
.157" (5 mm) to 1" (25 mm) OD
TUBING SHAPE
Straight or Hairpin
TUBING MATERIAL
Copper (Cu)
Aluminum (Al)
Stainless Steel (SS)
Steel
Cupronickel (CuNi)
COIL WIDTH
Standard: up to 60" (1,524 mm)
Special: up to 72" (1,828 mm
Economic
Expansion speeds over 50 fpm, means a 36" (914 mm) coil can be expanded in 15 seconds or 120" (3m) coils in 35 seconds.

All tubes can be expanded in a single cycle.

Customized options for short - or long-run production environments.
Technical
Structure is designed for a specific task: accuracy and longevity.

5 mm to 1" (25.4 mm) diameter tubing, coil widths up to 60" (1,524 mm) standard or 72" (1,828 mm) special.

Rod short-out system prevents damage before is occurs by detecting expander rod buckling, saving perishable tooling scrap and coils.

Coil length is repeatable to 1/16" (1.5 mm).

Many options to enhance production rate & operator ergonomics: coil handling, coil movement and coil containment during expansion.

Auto-rod options reduces set-up times.
User
Touchscreen auto setup of coil height control ensures consistent, repeatable, part-specific setups vs. operator-based setups.

Touchscreen based auto rod patter reduces changeover time.

Coil eject system pushes coil out after expansion.

Operator touchscreen controls can be configured for different languages.
To request a quote or learn more about BOTI's Vertical Mechanical Expander visit our capital sales page.