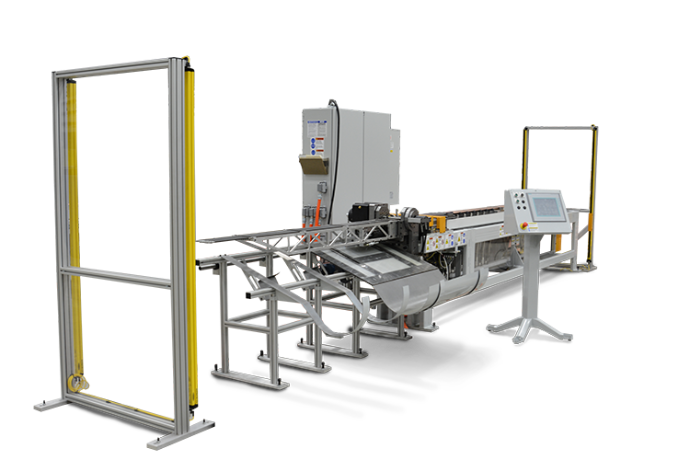 Triumph Hairpin Bender
Quality. Speed. Accuracy.
Quality, speed, and accuracy are not just words anymore – they define the OAK Triumph Hairpin Bender. Burr OAK Tool's revolutionary bender is up to 70 percent more productive, has a smaller factory footprint, boasts quicker tooling changes, and produces straighter legs and more consistent leg lengths than any hairpin bender on the market.

A manufacturer's decision to purchase new production equipment requires the careful consideration of both the more apparent and the less obvious costs associated with the purchase. Complete analysis of all these cost factors is crucial to determining the true Total Cost of Ownership of a machine and the success of a capital purchase.
Machine Specifications
PRODUCTION
8 tubes/cycle for 10 mm and smaller
Short Version: 8.4 sec for 1 m length
Long Version: 19 sec for 3 m length
FOOTPRINT
185¼" (4,705 mm) long
44½" (1,130 mm) high
33" (838 mm) wide
WEIGHT
AIR SUPPLY
5 ft3/min at 80 psi (0.14 m3/min at 5.5 bar)
POWER
28 kW @ .80/.82 PF, 24 VDC Controls

**Foundation information supplied upon request
Tube Specifications
SIZE
Tube diameter 13 mm or smaller
Short Version: For hairpins up to 2 m long
Long Version: For hairpins up to 4 m long
MATERIAL
Copper or Aluminum
Economic
Less floor space.

Higher productivity with more output per shift.

Lower scrap rate aids in material savings.

Lower maintenance cost.

Lower cost per hairpin.
Technical
Stretch straightening eliminates rollers and straightens in all planes.

Innovative cutter head design for superior cut quality.

Independent hydraulic clamping greatly reduces clamp marks.

Electronic components reduce hydraulic requirements.

Process control delivers consistent and accurate leg lengths.
User
Touch screen interface improves set-up time.

Length changes made on touch screen. No more mechanical adjustments.

Reduced tooling changeover time.

Operator touch screen controls can be configured for different languages.
Hairpin Bender Case Study


The Problem
The global HVAC OEM recognized that their current hairpin bender had issues with quality, was creating downstream difficulties, and was incapable of meeting production output requirements for the upcoming year's forecasts.
The Solution
Burr OAK Tool introduced the Total Cost of Ownership Calculator and walked the OEM through the cost considerations included in the tool. A Burr OAK Tool Sales Engineer reviewed with the Global OEM the overall costs involved with downtime, quality, purchase, and other cost that many organizations forgot to consider when purchasing capital equipment. After all was said and done, the OEM realized that the overall value proposition of the OAK Triumph Hairpin Bender was superior to all other options. They determined that it was the most cost effective machine and decided to purchase the OAK Triumph. The machine was installed on the factory floor within three months of the signing of the purchase agreement, having been shipped overseas from Sturgis, Michigan USA. The Triumph has now been on the OEM's floor for just over one year and is improving efficiency throughout the entire production environment.
The Results
Over 50% improvement in machine overall equipment effectiveness (OEE) measures.

OEM's 'Line A' coil braze joint reduction by 45% (immediate direct material cost reduction).

OEM's 'Line B' coil braze joint reduction by 50% (immediate direct material cost reduction).

Able to meet OEM's next 5 year production requirements of multiple product lines.

Capable of quickly meeting different hairpin length demands on one machine.
To request a quote or learn more about BOTI's Triumph Hairpin Bender visit our capital sales page.