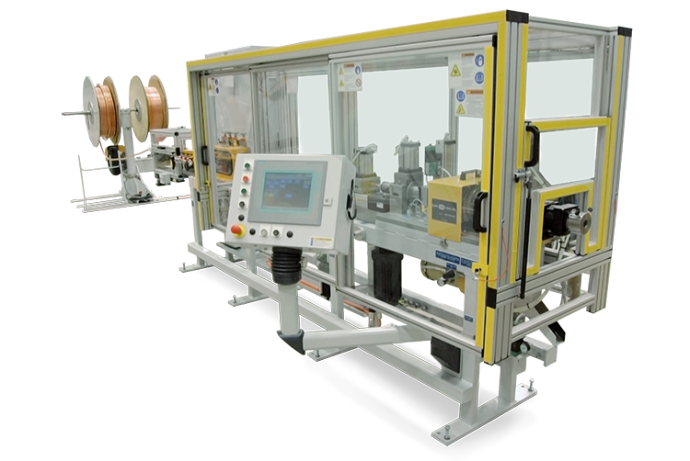 Straight Tube Cutoff

CNC Straight Tube Cutoff (STCO)
The OAK CNC programmable straight tube cutoff line from Burr OAK Tool is the most flexible straight tube production system ever developed for the tubing industry. Feed length, speed, and batch sizes are all accurately controlled through the touch screen interface, maximizing the productivity of your processes and personnel.
This hitch feed design incorporates a belt driven linear actuator that positions an air operated clamp to allow a maximum of 36" (914.4 mm) of stroke feed. The control of many aspects of the hitch feed can be determined by the operator at the touch screen interface. These include part length, number of parts required, and the actual feed speed.
The operator can enter up to five different lengths and the machine automatically repositions itself each time the correct batch number is achieved, thus reducing set-up time.
Machine Specifications
PRODUCTION
6" (152.4 mm) long: 35 pcs/min
18" (457.2 mm) long: 30 pcs/min
36" (914.4 mm) long: 26 pcs/min
FOOTPRINT
M5: 186" long x 40" wide x 72" tall
(4.72 m x 1.0 m x 1.82 m)
M6: ˜ 220" long x 60" wide x 72" tall
(5.58 m x 1.5 m x 1.82 m)
WEIGHT
M5: ~ 4,108 lbs (1,863 kg)
M6: ~ 4,410 lbs (2,000 kg)
POWER SUPPLY
29 – 38 kW @ .80/.82 PF, 24 VDC Controls

Foundation information supplied upon request
Tube Specifications
SIZE
M5: 3/16" (4.75 mm) – 1 1/8" (28.57 mm) OD
M6: 3/16" (4.75 mm) – 1 3/4" (44.45 mm) OD
Wall Thickness: .010" (.25 mm) – .060" (1.52 mm)
MATERIAL
Copper
Aluminum
Brass
Steel
Stainless Steel
Polypro Coated
Economic
10 minute tooling changeover.

CNC auto setup end forming means consistent end-forms with faster setup time.

Electric Servo motor and no hydraulics.
Technical
Sizes, cuts, straightens and end-forms in a single operation.

Cuts up to 36" lengths in one hitch.

Electric Servo Motor; hitch feed instead of air.

Magnetic cutter carrier enhances cutter blade performance.

Chipless cut.
User
Touchscreen controls for feed length, feed speed and batch size.

Tooling changes typically do not require tools.

Clear guarding provides an unobstructed view of the machine in operation while protecting operator

Guarding is mechanically locked during machine operation to ensure operator safety.

Operator touchscreen controls can be configured for different languages.
To request a quote or learn more about BOTI's Straight Tube Cutoff visit our capital sales page.