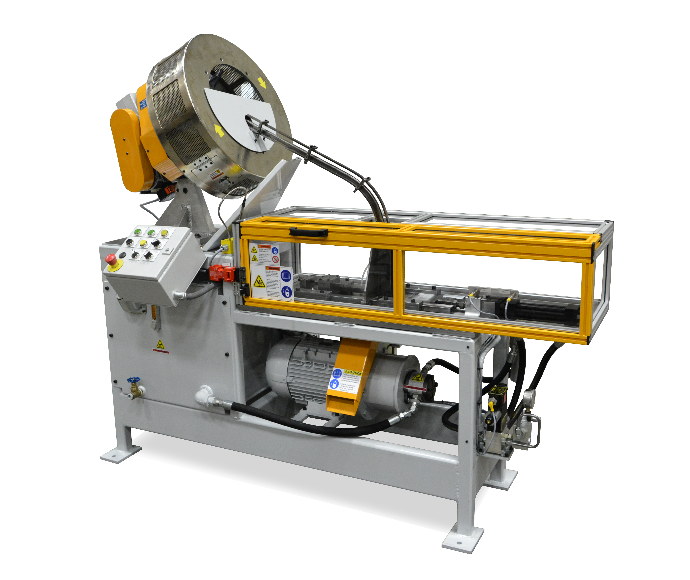 OAK Size Machine (SM)

Size Return Bend Legs
This machine is designed to properly size return bend leg ends. A hydraulically powered mechanism provides the necessary force for the operation which can include expansion or reduction of the leg ends. Return bends are automatically loaded into the work area from a rotary hopper to allow continuous operation.
Machine Specifications
PRODUCTION
60 cycles per minute max
60 1/4" - 3/8"
50 1/2"
40 5/8"
FOOTPRINT
≈
3.94' x 4.92' x 7.88'


≈

(1.2 m x 1.5 m x 2.4 m)


≈

2,000 Ibs (907 kg)



Air
2 ft 3/min at 80 psi
(0.3 m 3/min at 5.5 bar)
POWER
8 kW @ .80/.82 PF

24 VCD Controls

**Foundation information supplied upon request.
Tube Specifications
MATERIAL
1/4 dia - 5/8' dia
Copper or Aluminum
Return Bends or Crossover Bends
Economic
Less expensive than a combination size and ring machine - perfect for applications where a ring is unnecessary.

Adjustments are mechanical to avoid the unnecessary expense of additional technology.
Technical
SM is able to size return bends and crossovers, as well as heavy wall tubing.

Size Machine can reduce or expand bend legs.
Hydraulic powered when more force is required.
User
Gravity-fed from rotary hoppers for easy delivery of return bends into the Size Machine.
To request a quote or learn more about BOTI's Size Machine visit our capital sales page.