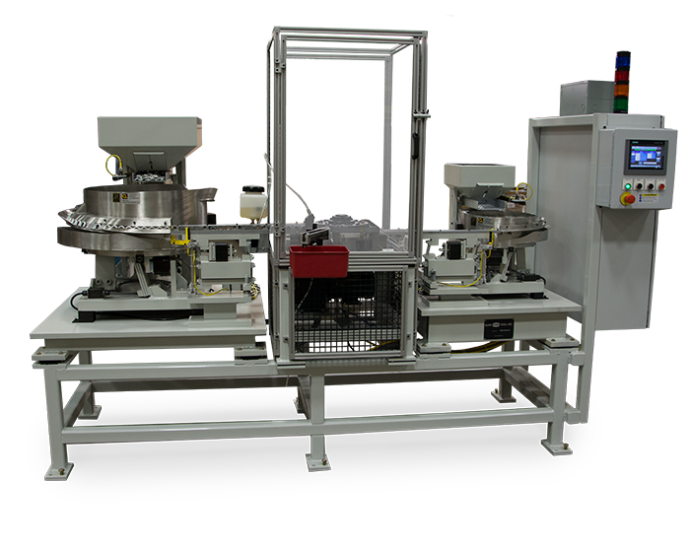 Saturn Size and Ring Machine

Load, Size, Ring and Eject.

This newly designed machine properly sizes return bend legs and assembles braze rings onto each leg. Ring placement and sizing are both accurate and consistent, requiring little operator interface. This machine has rotating stations that work in tandem to load, size, ring, and eject. Each function is performed during each cycle of the machine.
Machine Specifications
PRODUCTION
FOOTPRINT
48" wide x 114" long x 84" tall
122 cm x 290 cm x 213 cm
WEIGHT
AIR SUPPLY
2 ft3/min at 85 psi
(0.3 m3/min at 5.5 bar)
POWER SUPPLY
5 kW @ .80/.82 PF, 24 VDC Controls

Foundation information supplied upon request
Tube Specifications
MATERIAL SIZE
Tube diameter 10 mm or smaller
MATERIAL TYPE
Copper or Aluminum
BEND TYPE
Return Bends
BEND SIZE
5/8" (16 mm) – 1 1/2" (38.1 mm)
BEND LEG LENGTH
3/16" (4.75 mm) - 1/2" (12.7 mm)
Economic
One machine does both sizing and addition of rings.

Higher productivity with more output per shift.
Technical
Fast production - performs up to 120 parts per minute.

Able to size and ring copper or aluminum bends.

Less flux loss with vibratory system vs. rotary drum basket.

Ring detection with auto eject of return bends with missing rings.

Rings are pushed on squarely - higher retention of aluminum rings.

Bend detection before ringing - results in less jams, downtime and scrap.
User
Bend center tooling changeover in under 30 minutes.

Intelligent loading sensors will pause cycle if lacking material.

Machine will count parts and display scrap rate on HMI.

Consistent part orientation and uniform track uploading to ease downstream processes.

Guarding provides a clear view of the machine in operation while protecting users.

Guarding is interlocked during machine operation to ensure operator safety.

Operator touch screen controls can be configured for different languages.
To request a quote or learn more about BOTI's Saturn Size and Ring Machine visit our capital sales page.