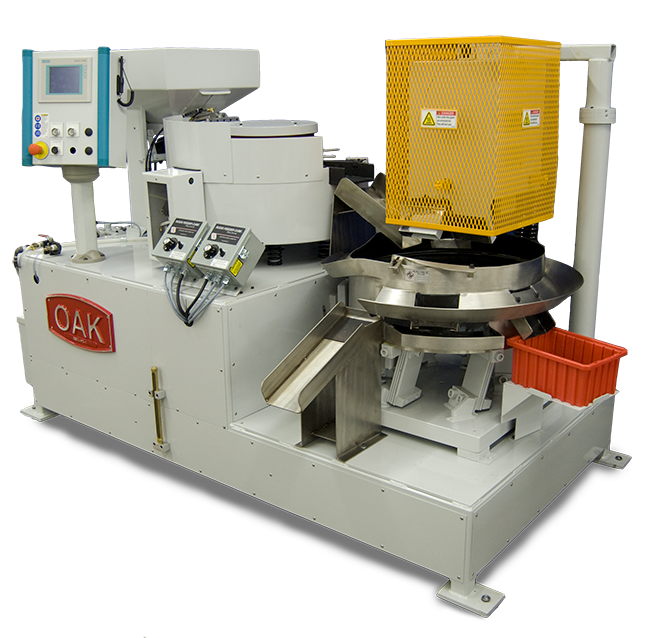 Return Bend Cleaning Unit

Environmentally Friendly and Versatile.
The M3 OAK Return Bend Cleaning Unit (RBCU) is an environmentally friendly and versatile machine. It cleans multiple bend sizes, shapes, and materials requiring little operator supervision. The final product is delivered clean, dry, and ready to move into the next production process.
Machine Specifications
PRODUCTION
10–15 minutes cleaning time
FOOTPRINT
4.27' x 8.20' x 5.91'
(1.3 m x 2.5 m x 1.8 m)
WEIGHT
AIR SUPPLY
10 ft3/min at 80 psi (0.3 m3/min at 5.5 bar)
WATER SUPPLY
10 gal/hr at 30psi (44 ltr/hr)
Gravity feed to sewer
POWER SUPPLY
10 kW @ .80/.82 PF, 24 VDC Controls
Tube Specifications
DIAMETER
¼" (0.635cm) – 1¼" (3.175cm) OD
TYPE
Return Bend
Crossover Bend
Elbow
Straight Length
MATERIAL
Copper or Aluminum
Economic
One machine cleans multiple parts and materials.

Requires very little operator supervision - freeing operators to perform other task.
Technical
Capable of cleaning elbows, straights, return bends, or crossovers of most sizes.

Can be hooked up to any bender line.
User
Creates ready to go parts - cleans, degreases, debars and dries.

Touchscreen allows easy access to machine controls.

More ergonomic height than previous cleaning machines.
To request a quote or learn more about BOTI's Return Bend Cleaning Unit visit our capital sales page.