OAK 4.0
Bringing digital and industrial together
OAK 4.0 allows end users to collect data that will empower better operational decisions. This feature enables OAK machines to provide operational data to the end user's production system for refinement and reporting purposes. These reports can be utilized to analyze production metrics, optimize asset management, and proactively schedule machine maintenance.
OAK 4.0 provides you smart, connected machines that will help you optimize your plant's operations. Our goal is to enable you to gather the data from OAK machines that you need to take your business to the next level of intelligence, realize actionable insights, and improve your asset management and maintenance.
Burr OAK Tool currently provides two different options for adding edge to your OAK machinery.

Data


Provides customers access to read and write data inside the machine

Customer is responsible for collecting and analyzing data

Edge


Industrial PC added to the machine

Perform basic data processing and analysis

Display processed data on dashboards

View dashboards locally at machine (customer provided monitor)

View Dashboards via web browser on network computer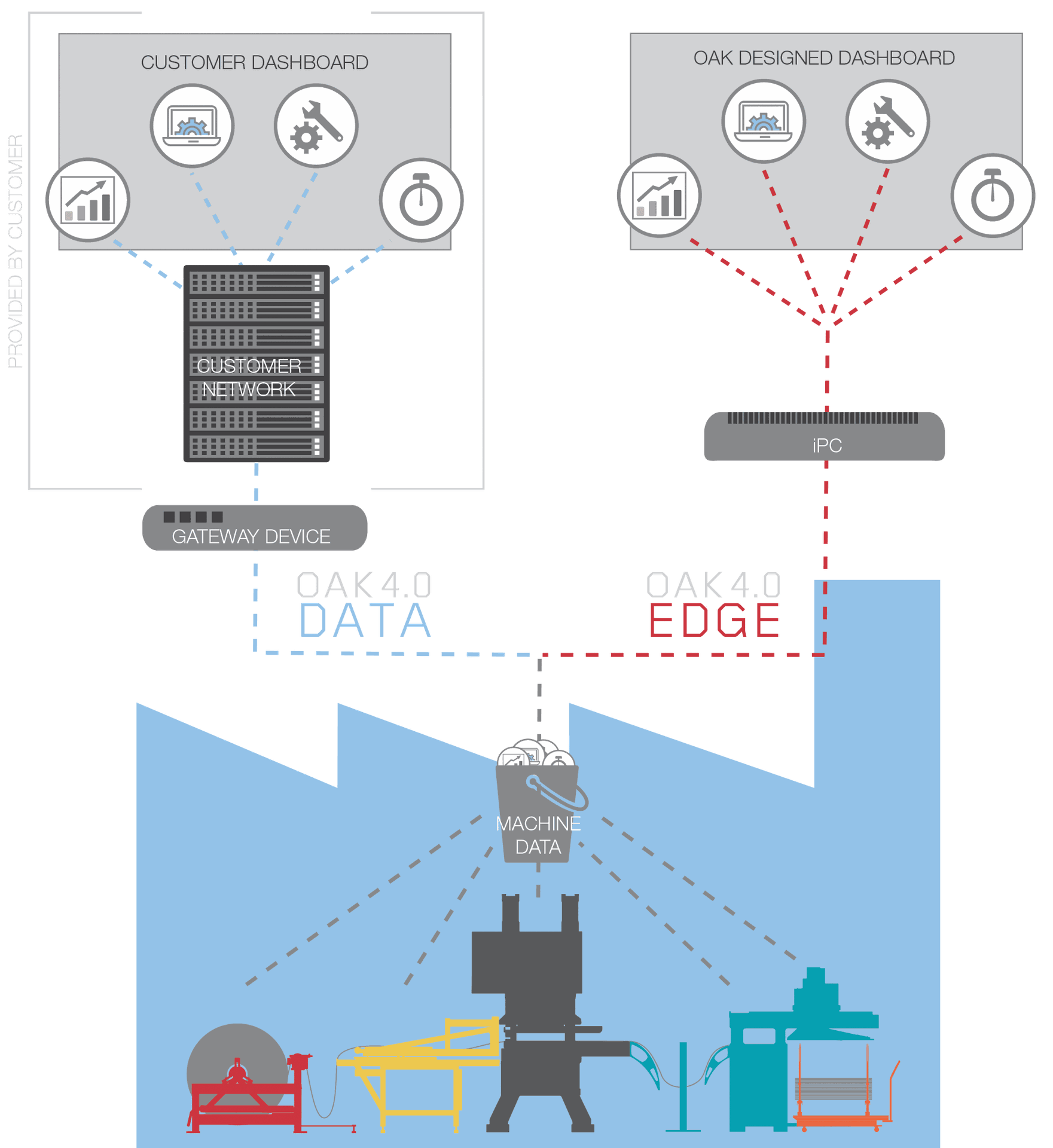 Predictive / Preventative Maintenance
Tool sharpening / replacement (ie., pierce punch, cutter blade, or expander bullets)

Machine cleaning schedule determined by cycles or hours in operation


Lubrication / oil refill schedule


Servo performance logs

Machine Monitoring
Log diagnostic messages and error messages for trouble shooting


Servo torque graphs to review anomalies


Real world data that helps OAK refine machine design and process improvement


Electronic components reduce hydraulic requirements.
Production Metrics

Machine utilization rates


Production rates (TAKT time) to refine scheduling machine capacity


Real time schedule attainment reporting

Optimize Operations
Digitalization


Virtualization


New information flows


Real-time product tracking

Predictive Maintenance

Anomaly detection

Production control

Diagnostic assistance

Data management services

Data Visualization

Performance insight

Remote monitoring services

Asset management

Cognitive solution

Business intelligence

Visibility to actionable intelligence

To request a quote or learn more about OAK 4.0 visit our capital sales page.