Katana Chipless Return Bender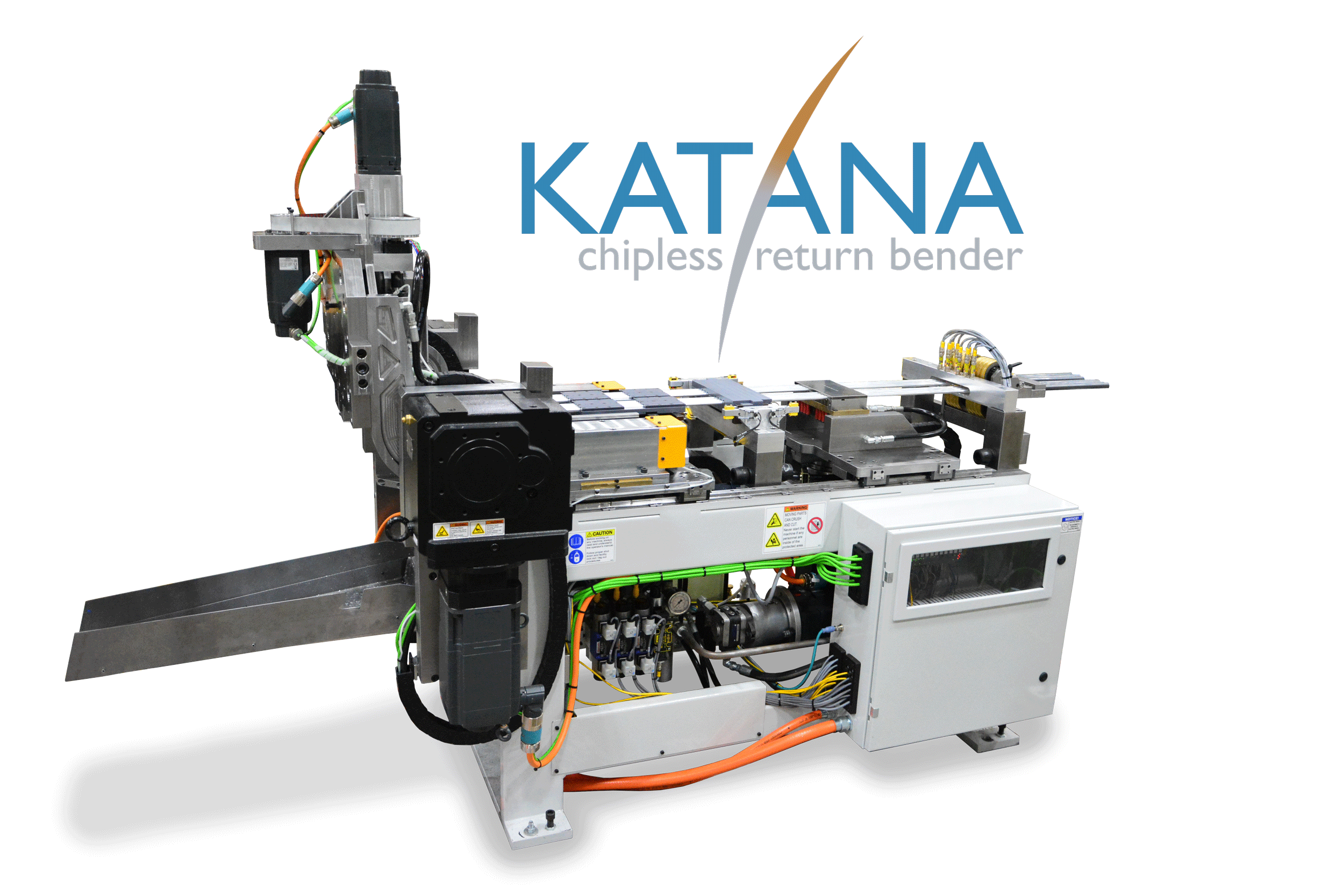 Katana Chipless Return Bender

Fast, Clean, Elegant.
The Katana Chipless Return Bender by Burr OAK Tool is fast, clean, and elegant. Advantages of the Katana include servo controls, quicker tooling changes and improved throughout. This cut is neat, clean, and chipless. No saw cut means no chips which delivers a significant reduction in scrap and cleaning compared to previous OAK return benders. The cutting-edge Katana is a simple and ingenious solution which mirrors Burr OAK Tool's high-quality standards and industry leading innovations.
Machine Specifications
PRODUCTION
8 tubes/cycle
Up to 120 parts per minute
FOOTPRINT
MACHINE ONLY:
110" (2.8 m) long
47" (1.2 m) high
48" (1.2 m) wide
MACHINE WITH GUARDING:
121" (3.1 m) long 81.5"
(2.1 m) high 74"
(1.9 m) wide
WEIGHT
Approximately 3,800Ibs (1,730 kg)
POWER SUPPLY
25kW @ .80/.82 PF
24 VDC Controls
**Foundation information supplied upon request
AIR
10 CFM at 80 psi
(0.29 m3/min at 5.5 bar)
Tube Specifications
SIZE
5 mm OD - 10 mm OD
12.2 mm - 55 mm bend center
Up to 1" leg length
MATERIAL
Economic
Higher productivity.

Reduce scrap through oscillating cut and no need for a trim ring.

Reduce downstream cleaning process as result of no saw chips.

Longer lasting cutters.

Lower maintenance cost.

Lower cost per return bend.
Technical
Innovative cutter head design for superior cut quality without chips reduces cleanup time and post processing needs.

Independent hydraulic clamping greatly reduces clamp marks and helps mitigate tubing diameter inconsistency.

Unique servo driven clamp offers control in bend quality and tube end conditions.

Servo driven bend allows for easy over-form adjustments.

OAK 4.0 enabled.
User
Touchscreen interface improves set-up time.

Length changes made on touchscreen. No more manual adjustments.

Fast tooling changeover time.

Fixed displacement lubrication control through the operator interface.
To request a quote or learn more about BOTI's Katana Chipless Return Bender visit our capital
sales page.