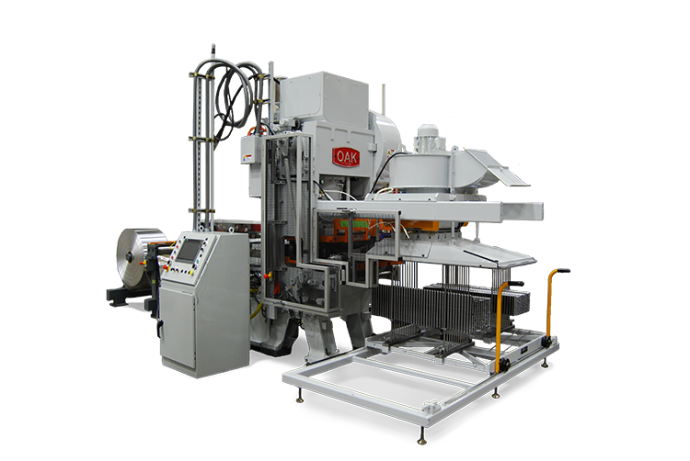 FP-400 Fin Press
Quality Production at an Affordable Price.
The OAK FP-400 fin production line provides a reliable, cost effective fin making solution. This 45-ton (45kN), straight side style press and line consistently produces quality fins. From reliable stock feed to damage-free fin collection, design elements lead to quality parts and longer tool life.

Machine Specifications
PRODUCTION
160 to 400 SPM*
FOOTPRINT
8' x 21.5'
2.5 m x 6.5 m
WEIGHT
~ 10,141 lbs (4,600 kg)
AIR SUPPLY
60 ft3/min at 85 psi
(1.7 m3/min at 5.51 bar)
POWER SUPPLY
15 kW @ .80/.82 PF, 24 VDC Controls
Foundation information supplied upon request
Die Specifications
TONNAGE
45 US Tons (400 kN)
FIN LENGTH
Up to 60" (1,524 mm)
FIN WIDTH
Up to 13" (330 mm)
SHUT HEIGHT
8.5" (216 mm) - 10.5" (267 mm)
STROKE
1 1/2" (40 mm) - 2" (51 mm) standard
Economic
OAK's least expensive fin press and line.

Reduced die and stacker tooling investment.

Multiple dies allow the fin line to be used for a wide range of products.
Technical
Hydraulic withdrawal feature allows routine maintenance without removing the die from the press.

Hydro-dynamic bearing reduces adjustments and adds stability.

Fast, safe and efficient fin die removal.

Can be modified to allow a maximum stroke length of 3" (76 mm) if necessary.
User
Interior of die is east to reach for tooling inspection and maintenance.

Program the fin length for the touch screen control panel.

Operator touch screen controls can be configured for different languages.
To request a quote or learn more about BOTI FP-400 Fin Press visit our capital sales page.