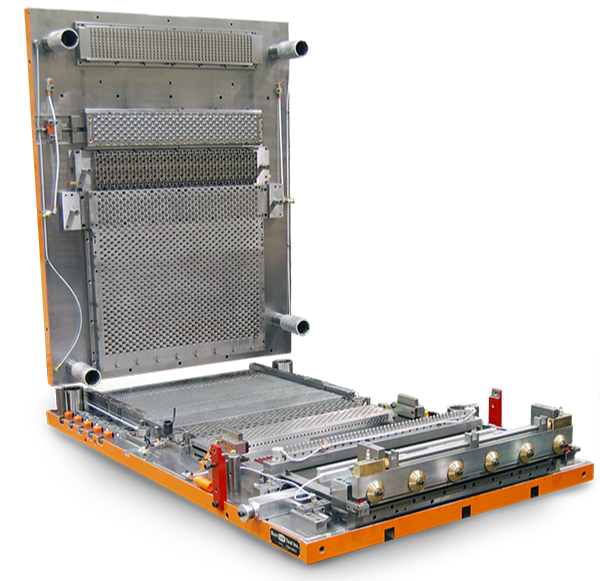 Fin Dies
Built for Accuracy, Speed, Longevity and Reliability.
Burr OAK Tool Inc. has been the industry leader in designing and building fin dies since the early 1960s. Our engineers work closely with you to design and build your fin die to meet your specific heat transfer requirements. The dies can be equipped with rapid die change options to provide more flexible and accurate production capabilities.
Fin dies designed and manufactured by Burr OAK Tool are consistent. They are able to maintain close tolerances and perform within the demanding specifications required by intricate fin design. OAK fin dies are dependable, both in creating quality fins each stroke of the press, and in producing superb product for many years.
Fin Forms & Collars
STANDARD FIN FORMS
Plain / Flat
V-Waffle
Modified V-Waffle
Sine Wave
Modified Sine Wave
SPECIAL FIN FORMS
Dog-Bone
Tab Spaced
Flat Tube
Ribbed
SPECIAL FIN COLLARS
Starburst
Elliptical
Oval
Die Types
STANDARD DRAW DIE
DRAWLESS DIE - TRIPLE EXTRUDE
FIN PER STROKE
SPECIAL PURPOSE DIES
BATTERY GRID DIES FOR THE LEAD BATTERY MARKET
Die Enhancements
LOUVERS
Sections cut and rotated away from the fin stock
LANCES
Sections cut and moved vertically away from stock
Economic
Highly accurate dies means more product per square foot of stock and less scrap.

Achieve tooling cost savings through flexible die design. A single die is capable of meeting a large range of fin design requirements with various collar springs, stock widths and material types.

Hydraulic slit selector clamps (gaggle tooling) allow row selections to be made by one operator versus two to make a change in shorter time.

Tooling can be manufactured from special tool steels for longer tool life, minimizing sharpening requirements. This means less production downtime.
Technical
Flexible die design can provide collars up to 1 1/2 fins per 25.4mm.

Adjustable reflate station provides accurately controlled fin stack height.

Auto draw and reflare adjustment is available.

Hydraulic slip clamps provide a positive, locked position throughout operation - eliminating hand screws.
User
Auto slit select and hydraulic slit clamp allows for safer changeover because guards remain in place - eliminating the need to open guards and enter the machine.

The clamps provide a positive locked position, and the auto slit selection provides location - all operated for the operator touch screen controls.
To request a quote or learn more about BOTI Fin Dies visit our capital sales page.